Two FSMA Proposed Rules Published ... But What... →
As predicted, high quality analyses of the two FSMA proposed rules are starting to come in.  This 10 pager from Acheson et al., are "must read".
"I believe Gurdon has ideas about becoming a scientist; on his present showing..."
– Nobel prize won by Briton written off in his teens by a science teacher | Science | The Guardian Well done, Sir John, well done.
kung fu grippe: On pooping in public bathrooms →
rsmallbone: I don't enjoy pooping in public bathrooms. They're filthy, disease-ridden, and rarely have the soft three-ply my delicate parts require. However, if you don't want to defecate in the streets like an animal, you'll occasionally find yourself in need of the traveller's last resort.
Ben finally does his homework?
merlin: Personality Test: Who are you on THE WIRE?!? Take our fun and simple quiz to find out which character you are on HBO's hit television program, THE WIRE. But remember, answer honestly! Okay, let's get started! Q: Is it 'all in the game?' [ ] Yes. [ ] No. [ ] Not Sure. Click for your answer…                                                                ...
A Woman Against Death: Why Microbiologist Alice C.... →
donschaffner: via @knit_wit. Who is my hero.
Please Help Fake Science Fight Negative Ads
fakescience: A new barrage of negative ads have hit the nation's newspapers. The reason? It's one month until the publication of Fake Science 101. Won't you help us fight these scurrilous attacks by ordering one or more books today?
"Dr Pornthep Siriwanarangsan, director-general of the Disease Control Department,..."
– Beware three-day old boiled eggs: 460 sick in Salmonella outbreak in Thailand school | barfblog Some times I really wish journalists would learn a little basic microbiology. Lack I'd reheating didn't allow anything to develop. Lack of reheating failed to eliminate a problem that...
324,770 Pounds of Meat Recalled Due to Listeria... →
A friend who is not me has some insight, and would like to discuss on the next FST.
Injuries from Ingestion of Wire Bristles from... →
A different kind of grilling risk.
Disinfection, Sterilization, and Preservation -... →
On the relative disinfecting properties of 70% ethanol vs. other concentrations.
Dr. Elisabeth A. Hagen: Four Food Safety Tips for... →
A numbered list and a "surprising" danger.  USDA must be working with some pro-bloggers to write such good link-bait. "Turns out" food poisoning is surprising.
Salmonella Tempeh Lawsuit Filed in Asheville North... →
Marler sues the tempeh manufacturer and the starter culture company. I think the second is justified. I'm not sure about the first. What should they have done differently?
"USA Today reports Best Western Hotels, in response to what it says is..."
– Best Western goes high-tech to clean | barfblog
"So the data about New Zealand home handlers, already flawed, is worse than..."
– Blame the consumer, New Zealand style: is high rate of campy due to poor home practices? | barfblog I reviewed this clunker for FC. I questioned the findings during the review and I still question them. Thanks, Doug, for calling this out.
Linked to 88 Salmonella Cases, Tempeh Starter... →
And by "yeast" we mean "mold".
V. impressed at this argument against ag... →
germgirl: Baptist Press - FIRST-PERSON: Antibiotics & our future - News with a Christian Perspective Steve Willis Posted on May 16, 2012 Steve Willis is lead pastor of First Baptist Church in Kenova, W.Va., and author of "Winning the Food Fight" (Regal 2012). …I never would have thought our nation's problems with overeating and antibiotics are interrelated. Nearly half of all antibiotics...
"HOW SIRI INTERPRETS IT WHEN I SAY "REMIND ME TO PUT THE GAZPACHO ON ICE IN AN..."
– One Foot Tsunami: Over-Promise and Under-Deliver via danielpunkass Hmmm.  If the Gazpacho is not put on ice, this might eventually result in botulism.  Maybe Siri is smarter than we thought. (via donschaffner)
SUBMISSION: Carrots juice shop in Malad, Mumbai →
Does organic food turn you into a jerk? →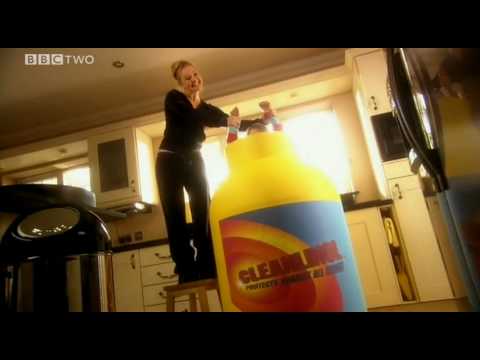 The Microbiology of the Restroom →
I read almost everything Bernard Dixon writes for ASMs Microbe magazine, but this one made we want to check the original source: Journal of Applied Microbiology (112:614, 2012). Plus we need to get our papers on kitchen cross contamination submitted. Soon.
"Students enrolled in the Environmental Justice and U.S. Literature class taught..."
– Tufts justice students need to learn to substantiate rhetoric about E. coli in beef: students organize petition for more free−range meat | barfblog I'm sure Tufts Dining Services would be happy to do this. And pass the costs along to the mommies and daddies of the kids at Tufts who signed...
"The tempeh company shares a kitchen, Blue Ridge Food Ventures in Candler, with..."
– Tests confirm Salmonella in Smiling Hara Tempeh as outbreak worsens | barfblog The most interesting thing about this outbreak to me is that quote above. I think we will only see more of these types of outbreaks as the "local food" movement grows. (via donschaffner)
"@jdalrymple "It's podcasters! Poutine is made out of podcasters!..."
– Twitter
"Skype should sponsor the first 30 seconds of every podcast. You know. That part..."
– Twitter / @hotdogsladies